Hey you guys! Thanks for all the useful information! You really went into detail and were really helpful. Maybe once my entire "transformation" is complete, I'll turn this blog into a real RL blog haha. I appreciate the effort you put forward to help me!
Alright so lets have a little debate. Question: To wear Abercrombie or not to wear Abercrombie?
My opinion? Sure! Go ahead and wear it, as long as you can't tell that's where you got it. So, don't get anything that says "A&F" or whatever. In my opinion, it looks straight up cheap and trashy. It hurts your reputation! I actually love mixing Abercrombie and Fitch's clothes with other pieces from different stores. For example…
Cute pink shorts
http://www.abercrombiekids.com/shop/us/girls-classic-shorts/a-and-f-low-rise-shorts-2261593_01
Striped oxford top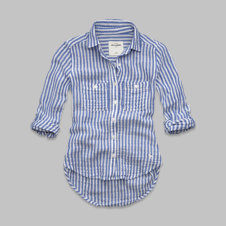 http://www.abercrombiekids.com/shop/us/girls-classic-shirts/classic-plaid-shirt-2142575_01
Pair with a statement necklace, and a bow in your hair and you're ready to face the world! Also, some cute Toms would go perfectly with this outfit. Especially the white eyelet (lace) ones! Complete the look with  a small, cute bag. I would carry one of my Coach or Kate Spade purses.
See how great an outfit from Abercrombie can look?
PS: I have a casual-girly look right now, but I'm aiming for a " prep chic " type of look. I love love love Lilly Pulitzer prints, and hope to incorporate them into little things like my phone case in stuff. I also am head over heels for monograms. You get my just ?